What is NordVPN?


Our website is all about privacy, or better said, the lack of it. And as we explain pretty extensively on our website, to remain anonymous on the internet, the smart thing to do, is to make use of something called a VPN, which stands for Virtual Private Network.
In the daily life of the average internet user, a VPN has or will become an important element in doing it securely. This is especially true when you are regularly using poorly secured open WiFi-networks.

The best known supplier of VPN-software these days is Nord Security, a company the online security business for over 10 years now. They provided us with a license of NordVPN, which is becoming more or less synonymous with VPN. They even do TV commercials for it to get that association going.
So, what is NordVPN? We've decided to do a full 'what is' review on their product. Reviewing products is something we do very often, sorry about that, but nonetheless we gave it a good try as the product in essence has everything we need to roam freely.


The installation
What immediately catches our eye, is how polished their installation process comes across. No difficult questions, just point and click after you've finished the first step of signing up. After signing up, you receive a link from which you can download the file and start your installation. Next up is to fill in your activation code combined with your e-mail address.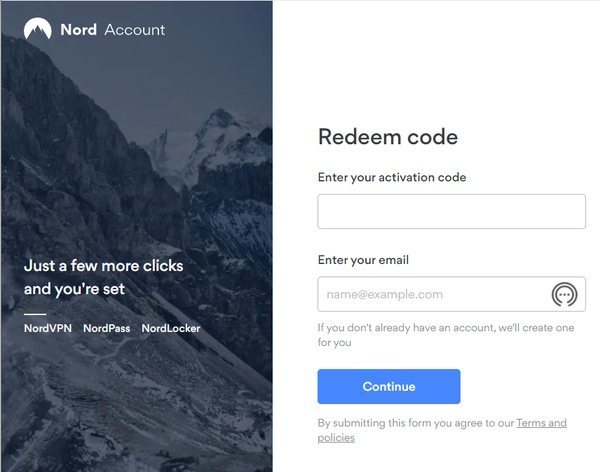 The NordVPN sign-up page



With Nord Security as the supplier of the software, a lack of security is something you don't get. After signing up, you receive an e-mail with yet another activation code, which expires within 60 minutes. This code is needed further along the installation of the software, which generally happens within those 60 minutes, so no problem.

Next up is generating a strong password for your new account. And with strong we mean a password containing 8 characters including uppercase, lowercase and special characters. There is no way around it, and a password strategy like Michael McIntyre suggested a while back won't be useful here. I don't think we have to explain why a strong password is important, but if you do, please let us know.

Once the account has been created, it's time to head over to the installation. Just click download and retrieve the software. Do you require the VPN software on your mobile phone? No problem, because you will also see a QR-code which you can scan, so you can simultaneously can install the software on your phone. Now that's good thinking! No half measures when it comes to security!

Once the software has been downloaded, it's only a matter of following the installation wizard. It's pretty much 'Next', 'Next', 'Next' and 'Finish'. The same as you will with most applications these days.

When the installer has finished, you can choose to have a shortcut placed on your desktop, which we recommend and Bob's your uncle.

Afterwards you will get a few questions on how you want to use your new piece of kit, and you have the possibility to install their free password manager, called NordPass. With this tool, you can store your passwords securely on your computer. This is also called a digital safe and a logical thing to have, because when you are serious about security, there is no way to actually remember the passwords you generate. You need a place to store those cryptic sentences which is easily accessible. If you don't use a digital safe at this point, we highly recommend doing so from now on. This knowledge is now shared with you, you have joined the club of security aware people. There is no turning back.
After this, the installation is finished.


Using NordVPN
To start using the VPN, you have to start the application. When you've selected to place a shortcut on your desktop, you will find it there and can double-click it. If not, you can find it through the application menu. The next thing you will see, is a login screen, in which you will have to enter the details you've filled in earlier.

When you completed this step, the software will start, and you will be asked to select a country to which you want to start your VPN, making it possible to mimic a connection from a different country of origin. You can find the list of countries on the left side.

For instance, if you want to have the United States as your country of origin, you can simply search for it and double-click the name. When doing so, you have established your VPN to a server based in The United States. It's that simple.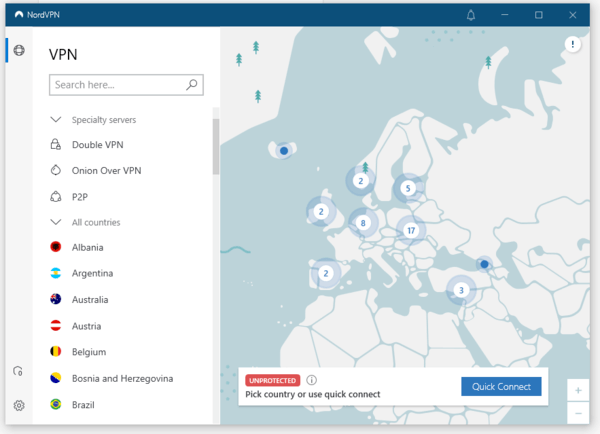 Selecting a country for your connection
Double VPN
So, what's even better than an encrypted connection, the engineers at Nord must have thought. The answer: Double Encryption, or as they call it: Double VPN.
When using this option for your connection, all the traffic you send over your it will be encrypted twice. First, it's being sent to the VPN-server encrypted like all VPN-tunnels do, but afterwards it's encrypted for a second time through another tunnel. Now that's a neat feature for those who also use tin hats, but then again, why not? A nice and quite unique feature to this product. We tried it ourselves and have to say that it is working quite smoothly. No difference in speed and performance. One might go as far as saying that you don't even notice it. To make sure this is not country dependent, we also tried two others.. Same result. Nice!


Double VPN visualized
Onion over VPN
Although double VPN is quite extreme, some will say it still isn't enough. For those people, they even have the option to use 'Onion over VPN', which will route you over the Onion network. After enabling this, your internet service provider will be able to see that you are using Onion, but not what for, making it entirely possible to shield you from ALL third parties and impossible to track online activity. You can really have ultimate privacy, if you want it.


P2P
The P2P option is a clever solution to share files across the globe while maintaining the speed of your connection. It refers to a dedicated platform they have created for P2P transaction that ensure fast, safe and secure file sharing across all popular file sharing platforms.


Checking out the features
After installing and starting the VPN-client, you have an array of features, which can be a bit daunting for people who are new to this world of security, so we will elaborate on them here. Click on the gear icon to see them.

Within the general options screen, you have a few basic options to choose from. Each of which are pretty much straight forward:


Launch at startup (default is on)
Launch the app minimized (default is off)
Show VPN connection status notifications (default is on)
CyberSec: block ads and malicious websites
Supported languages (English, Spanish, French, German, Chinese and Japanese)
Now, on to the more advanced feature the software offers.


Auto connect
A really handy feature within the NordVPN client is 'auto connect'. It offers the user two options: Always make sure that the VPN client is running, or the other option: only use it when connecting with an unsecure Wi-Fi network. The latter meaning that when you are on a network from which you are 100% sure that it is secure, like your home network, you can decide to have the connection set-up without using encryption. We, however, do not advise this. It's better to get accustomed to the use of a secured tunnel where ever you are. There is no need to take any risk.
You also have the option to select the VPN-server and protocol automatically when connecting. If you have no need to cherry-pick them, we would leave this option on.


Kill Switch
Another neat feature the software incorporated, is the Kill Switch. It offers the possibility to automatically disable your networking connection in the event you can't create a VPN-tunnel. It even has the possibility to shut down selected apps when this happens.
Having this feature running in the background could be a potential life-safer when dealing with highly sensitive information, which never should be share across an open Wi-Fi network. An excellent feature!


Split tunneling
It almost sounds like an innovation from one of Elon Musk's companies, but NordVPN offers something called Split tunneling, which in essence means you want to use a tunnel but not for everything. So, it gives you the option to select the applications for which you want to automatically start your VPN, meaning that for all others, it won't start. This way, you can choose for what applications you want a secure line, and for the rest of them you use an unrestricted connection.


NordPass & Nordlocker
Included in the paid subscription are the free versions of the NordPass and NordLocker products. NordPass is perfect, when you don't use a password vault already. It uses zero-knowledge encryption, meaning that you are in full control of the security of your passwords.
The free version has some features missing, the multi-device usage feature being the most important one.
NordLocker is your secure cloud storage. The free version offers 3 GB of included storage, where the paid versions ups this to 500 GB and also offering 24/7 support.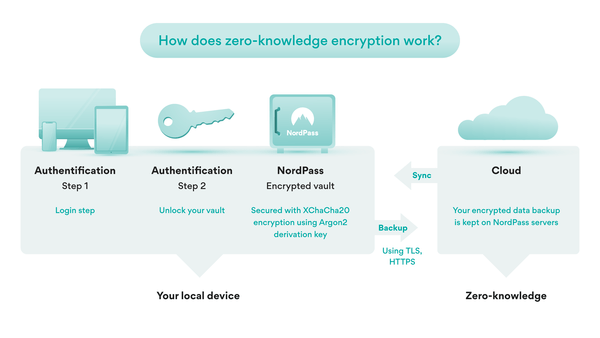 The concept of Zero-knowledge encryption
Our verdict
After going through and trying all the options this security software has to offer, we have to conclude that you are getting an awful lot of options and top-notch security at a very decent price point.

The features it offers show that this software is a must-have for anyone who wishes to being connected to the internet as secure as possible, especially when you are on the road a lot and have to use open, unsecured networks frequently. A lot of its features are unique or only partially mimicked by its competitors.
In terms of speed, it can match the quickest available and also offers an above-average amount of servers to connect to.

On top of the technical performance, their client is very easy to install, even if it's a mobile phone. And that's a huge advantage these days.

With regard to the price we have to point out that it doesn't come cheap as you might expect from a top contender in the world of secured connections, but they aim to be the best, not the cheapest, and we like that. Although it's somewhat more expensive, you get everything you need, which totally makes up for it. It's the ultimate 'set and forget' VPN software. Look no further.


4.5 out of 5 stars

With LookIP.net you get NordVPN risk free with a 66% discount, a free gift and a 30 day money back guarantee!